Cheshire East Council to move to a 'committee system' despite Conservative opposition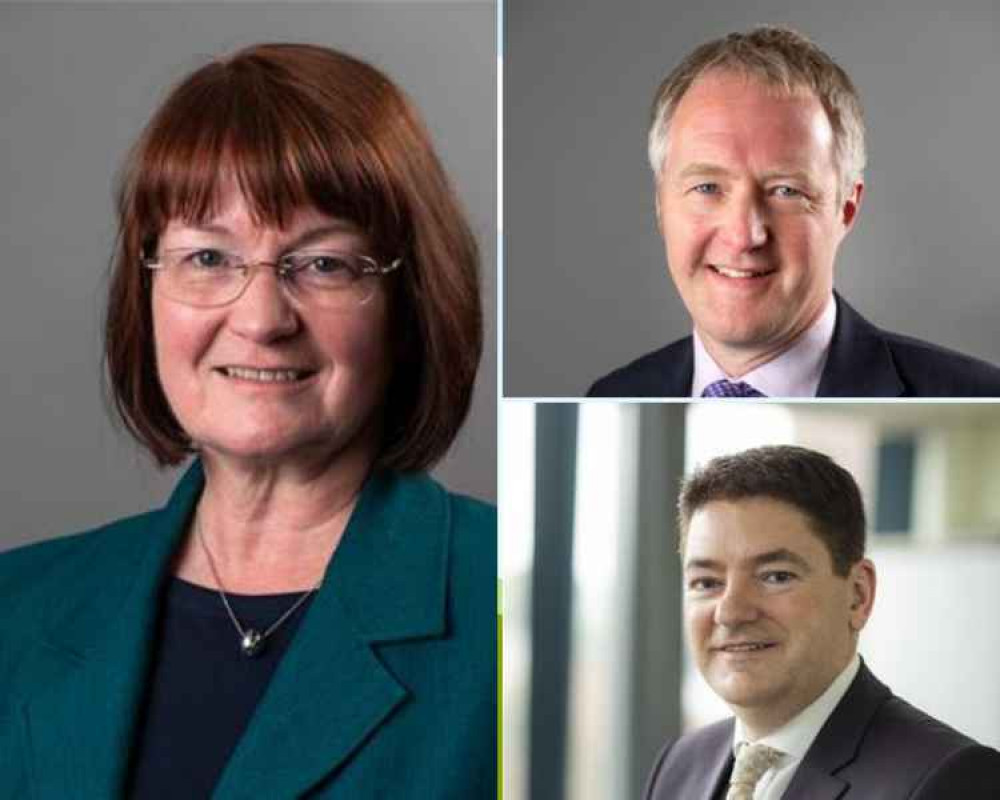 Cheshire East Council group leaders, Cllr Janet Clowes (Conservatives), Cllr Sam Corcoran (Labour), Cllr Craig Browne (Independent Councillors)
Cheshire East Conservative group leader Cllr Janet Clowes has explained why her party voted against a major constitutional change at last week's special council meeting — despite entertaining the idea a year ago.
From May 2021, CEC will be run by a 'committee' system, rather than the existing 'council leader-cabinet' model which has been used since the council's inception in 2009.
The new system will see key decisions made in one of six committees, rather than a council cabinet passing motions.
Cllr Clowes' Conservative group voted against the plans, after seeing an amendment which required committee chairs to be chosen on a 'politically proportionate' basis being defeated.
Cllr Clowes told the LDRS: "In 2018, the Independent group launched a petition called Change Cheshire East and they brought it forward at a meeting of full council in March 2019.
"We refused it then as we were about to enter the pre-purdah period for the 2019 election. We just were not prepared to look at it then but it is not the case we [refused outright]."
The 2019 election resulted in the council being under no overall control, leading to talks between the major parties over a coalition deal.
Cllr Clowes added: "That was very much the meat of the conversations [about coalition]. It had to be fair, proportionate, open, and transparent.
"I think that is a message that we adhered to throughout — but what we have ended up with is now a system which Labour and the Independent group have made it quite clear they are not interested in proportionality.
"They will work together as a coalition. They have set up a chairman's panel which is there to enable all the chairs all the opportunity [to discuss issues] which overlap so they are aware of them.
"We call that a cabinet by any other name. That is a deep concern. The idea that chairs have no power and decisions will be made at committee is technically correct but if you are a chair with coalition partners they have made it clear that chairmanship will only go to coalition members. It is really disappointing."
In a statement following the meeting, Independent group leader Cllr Craig Browne, said: "The move to a more transparent and inclusive system of governance is just one of the ways in which we have been trying to change Cheshire East for the better, since Independent Councillors joined the leadership of the Council in May 2019. This decision marks the delivery of our key election promise to residents."
Cllr Sam Corcoran, Labour Leader of Cheshire East Council, added: "In May 2019 in my speech after I had been elected Leader of Cheshire East Council I said that I wanted to disprove the saying 'Power is never given away – it has to be taken'.
"I intended giving power away and today I delivered on that by voting to reduce the power of the Leader of Cheshire East Council. Sadly the Conservatives responded with party political point scoring and false personal attacks. They seem to have learnt nothing from their electoral defeat in May 2019."
The committee system will be in place for a fixed five-year term from May 2021.