Meet the Sandbach teashop owner whose teenage dream came true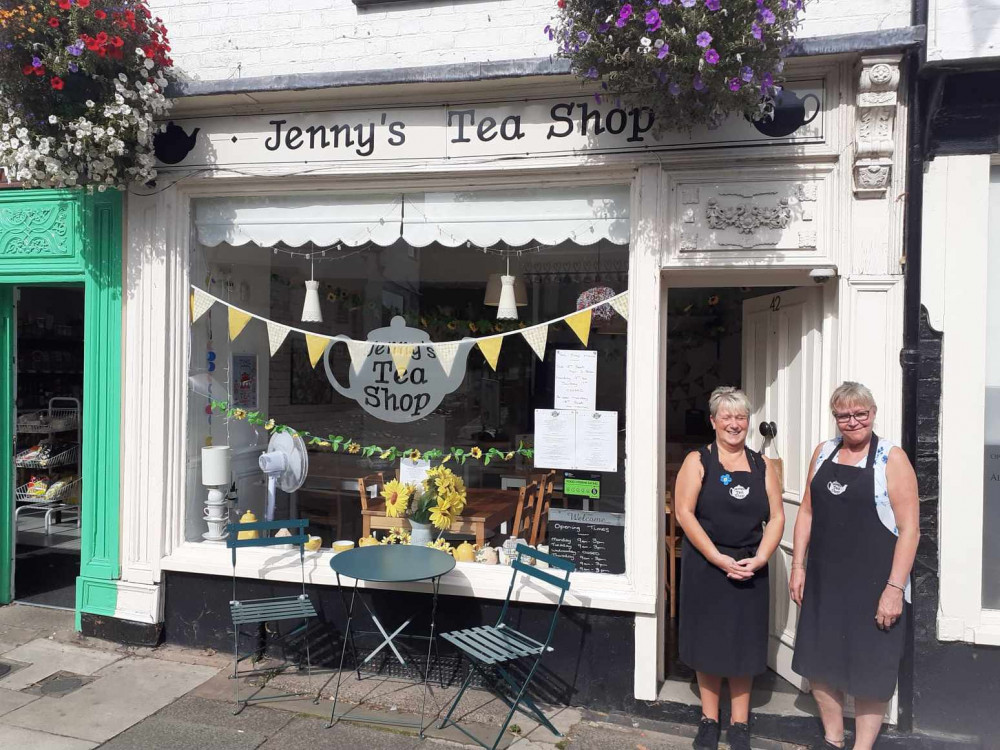 Jenny (right) outside her teashop in High Street, Sandbach. (Photo: Deborah Bowyer/Sandbach Nub News)
Owning your own tea shop is often every girl's childhood dream but for one woman, this dream came true.
Jenny Chamberlain had always dreamt of owning her own teashop after falling in love with one during family holidays, aged just 13.
Her family would head off to Dedham in Suffolk every year for their annual camping holiday and often go to the quaint teashop at the end of the field.
"I loved the tea shop and it started there. I dreamt of owning my own tea shop never realising it would happen," said Jenny.
Fast-forward to seven years ago, and Jenny, who moved from the south to Sandbach, spotted a premises up for rent.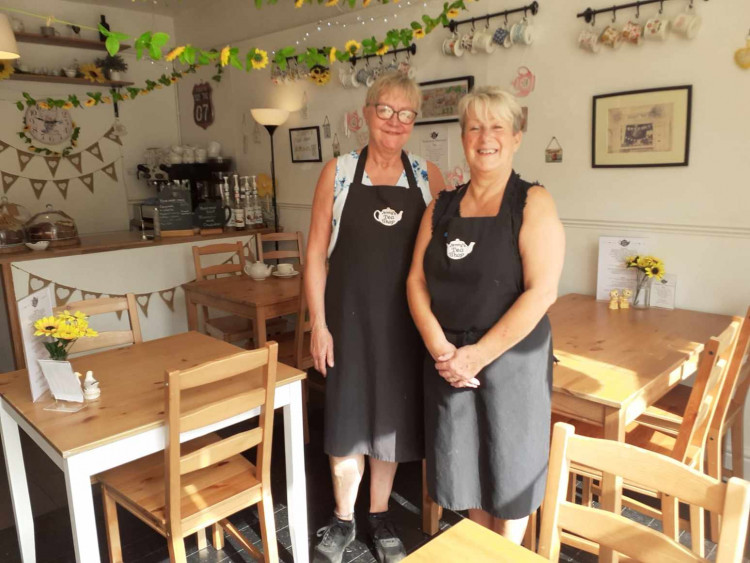 Jenny (left) with co-worker, Grace Hodge (Photo: Deborah Bowyer/Sandbach Nub News)
"It was near the church and in the perfect location," said Jenny. "I set about turning it into a tea shop and that was it."
Now the owner of Jenny's Teashop in Sandbach's High Street has an envied following for her homemade cakes and delicious breakfasts.
"I've always loved cooking and baking," said Jenny. "When I was little, I used to help my mum making all sorts of things.
"I just love baking and making things but it has to be done properly."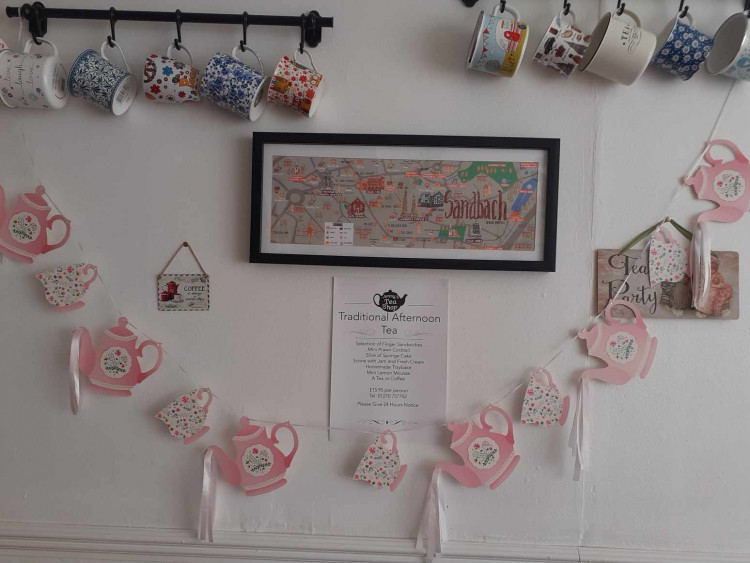 (Photo: Deborah Bowyer/Sandbach Nub News)
And properly means serving afternoon tea out of bone China tea cups and matching tea pots.
"Tea does different when it's drunk out of China cups," said Jenny. "People donate collections to me to use in the shop."
Not only do customers donate China collections, they also donate ornate tea pots, off which Jenny has quite a collection.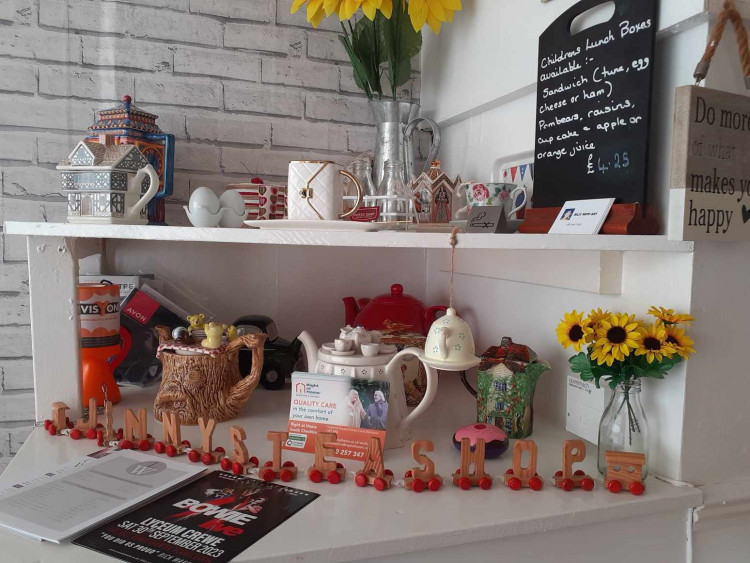 (Photo: Deborah Bowyer/Sandbach Nub News)
Homemade cakes served at Jenny's Teashop are renowned in Sandbach, with favourites being coffee and walnut cake, Victoria sponge and chocolate cake.
Jenny's own personal favourite is treacle cake along with her homemade scones in fruit, cherry, lemon or plain flavour.
And when customers opt for an afternoon tea they have a selection of the delicious cakes and sandwiches to choose from.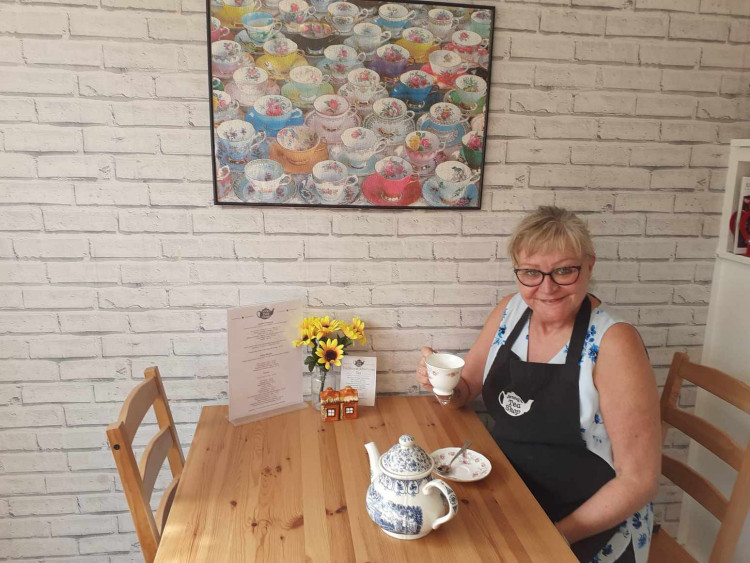 (Photo: Deborah Bowyer/Sandbach Nub News)
There's plenty to taste coffee lovers too with an array of coffees to choose from but there's one thing you won't find – Wifi.
For Jenny has made her teashop a Wifi-free zone on purpose – so people come in to chat, not catch up on their phone or check out websites.
"I wanted to create a friendly and comfortable place for people to come in and have a chat," said Jenny.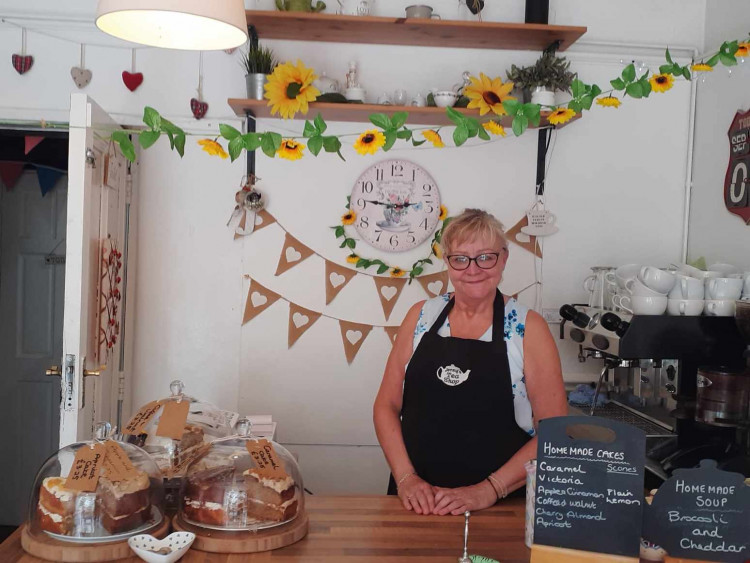 (Photo: Deborah Bowyer/Sandbach Nub News)
"We have quite a few regular customers, some of whom come in on their own just for a chat.
"I'm not against modern technology – it's just nice to get away from it for a while and talk face-to-face."