Sandbach United beat Alsager Town in local derby despite goalkeeper injury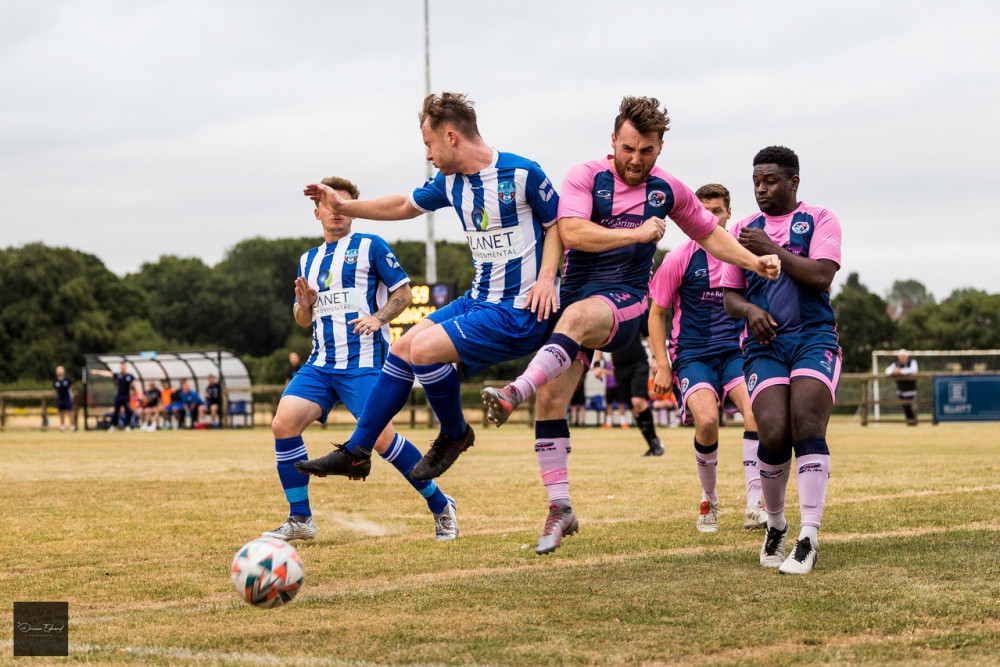 Sandbach clinched a win on Saturday despite losing their goalkeeper.
By Jay Rowland
An outstanding strike from Will Booth earned Sandbach all three points over Alsager Town.
Under the blazing sun on a gorgeous Cheshire afternoon, Ramblers manager Declan Swan was preparing his side for an important NWCFL fixture – a must win game against local rivals Alsager Town.
With both teams sat on four points after a mixed bag of results to start the season, it was imperative to gain not only three more points, but bragging rights too.
After a disappointing performance in the 3-1 midweek loss at Brocton, Swan made changes to his starting eleven. Jordan Stafford and Max Buckley-Benbow dropped to the bench, while AJ Kandeke returned to the starting line-up and Niall Cope made his first start of the season.
The game was halted only three minutes in after Eric Merner went down with a painful looking ankle injury. When it became clear that he could no longer continue, Sandbach became victim to having no substitute goalkeeper named on the bench.
Captain Jordan Stafford volunteered and donned the gloves, claiming his first cross after 16 minutes with some excellent handling.
Three minutes later, the scoring was opened in style by midfielder Will Booth. After good positive play down the right flank by Sandbach, Alsager poked a low cross away from the box.
Booth was first to react to the loose ball and struck a first-time strike brilliantly into the top right corner leaving the Bullets goalkeeper helpless.
After 22 minutes, Sandbach were aggrieved when a second goal was denied by the referee's whistle. A dangerous through ball aimed for Ryan Rogers looked to be just about dealt with by the Alsager defender until he accidentally collided with the onrushing goalkeeper.
The ball fell fortuitously to Rogers who couldn't miss the empty net, but his celebrations were cut short as he was deemed to have fouled the defender before reaching the ball.
Sandbach's only other notable chance in the first half came to Tyler Barnes in the 45th minute as a delightful cross was met by the striker's head, but he sent it wide of the far post.
The Ramblers looked certain to double their lead in the 67th minute as Liam Fitzpatrick produced a moment of magic to turn a non-threatening spell of possession into a goal-scoring opportunity, but his low drive across the face of goal was missed by the rest of the Sandbach forwards, with any connection certain to double the hosts' lead.
Sean Sherwood was certain he had scored a Sandbach second when he won the ball from a half-cleared corner and drilled his strike into the net, but he was adjudged to have raised his foot too high and Alsager could relieve the pressure.
Despite pressure from the visitors at various points of the second half, Alsager never truly tested Stafford, playing in a very different position to his usual central midfield role, and Sandbach were deserved winners as the final whistle blew.
After the game, Swan said "I think we've played well enough that he [Stafford] hasn't needed to make a save. I'm sure he'll be after a clean sheet bonus now!
"But as far as 1-0 victories go, particularly with no first-choice goalkeeper, it was comfortable. It could have been two or three nil to us in the end".
After the win, Sandbach move up to fifth in the table ahead of their next game, at home to Foley Meir on Saturday 20th August.