Postnatal Restore Exercise Classes
---
Wheelock Methodist Church, 495A Crewe Road, Sandbach, CW11 3RT
16th May 2023 - 25th Jul 2023
Tuesday 30th May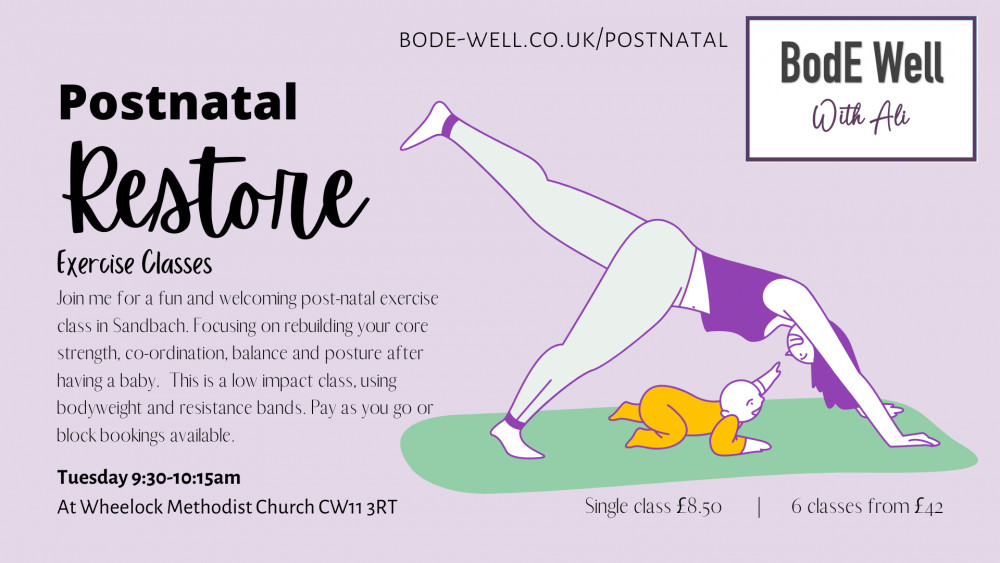 Come along to my Postnatal Restore class on Tuesday at 9:30am to help you build your core stability and overall strength after having a baby. We focus on core engagement but also use full body resistance moves so you work your whole body safely, be prepared for some burn! I use bodyweight, resistance bands and small equipment such as pilates balls and small weights. Bring your baby to class, I provide mats and toys to keep them occupied while you exercise. You can drop-in or book 6 classes (either consecutive weeks or flexible to suit you).
Book online at www.bode-well.co.uk/book
Classes are at Wheelock Methodist Church 495A Crewe Rd, Wheelock, Sandbach CW11 3RT.
Get in touch if you have any questions [email protected].
I can't wait to meet you and your baby.
Add your Sandbach event for FREE here!
Nub It