Sandbach United soundly beaten by joint-top Millers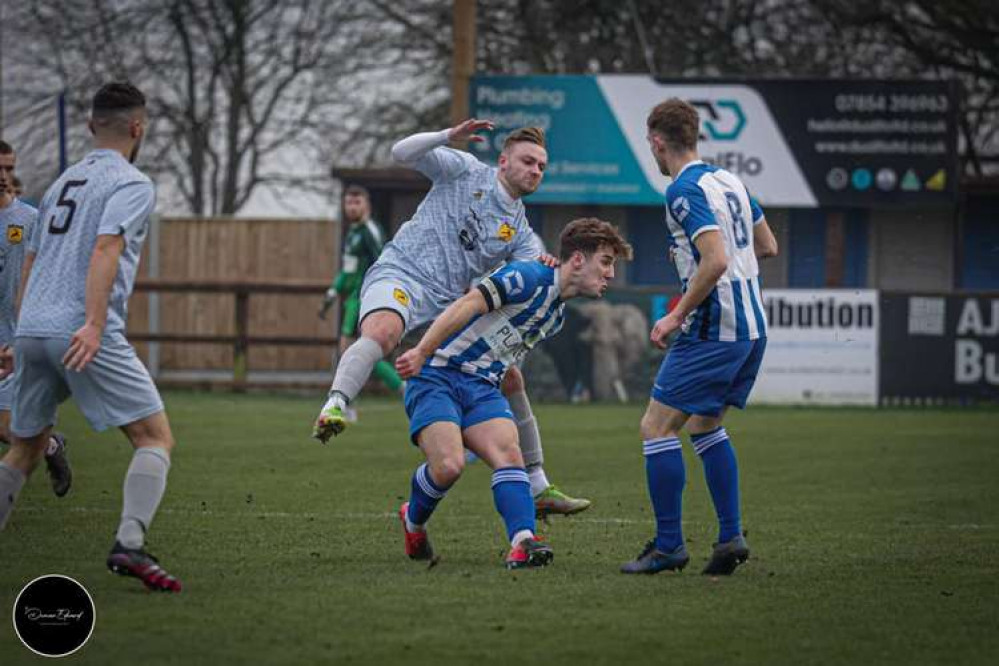 New Mills scored three goals in half an hour to put a sizable dent in Sandbach's playoff hopes.
After winning two of their last three games, Sandbach were growing in confidence that they could scrape into the final playoff spots by the end of the season ahead of their clash with 2nd-placed New Mills.
Ramblers interim manager Declan Swan stuck with Brian Barton after his brilliant performance against Stafford Town, whilst first-choice goalkeeper Danny Hamlett returned between the sticks.
Both teams looked to play attacking football from the first whistle, and the first major chance came to the visitors when a deflected Kyle Oakes cross looped onto the roof of the net.
The half saw more bookings than clear-cut chances as the Millers certainly lived up to their second place in the league discipline table, as no less than three Millers players were in the referees book by half-time in a stop-start 45 minutes of football. Sandbach's Billy Buckley also picked up a booking for the hosts as both teams entered the break goalless.
Opening the second period, Buckley played a great ball in from the right wing into substitute Matt Pearson, who's goal-bound shot was well kept out by Dylan Forth, before New Mills cleared the rebound in time to prevent Barton getting another poachers goal.
The visitors opened the scoring after an hour when a low ball was fizzed across the box to the feet of Joe Bevan, who slotted in the first goal of the game.
Despite Sandbach hoping to equalise, it was the Millers who doubled their advantage through Jack Wray in the 77th minute. After a well-timed through ball sent him through one on one with Hamlett, he stroked a shot into the bottom left corner.
New Mills then added a third from the penalty spot in the 90th minute when Darren McKnight calmly placed his spot-kick to the left, with Hamlett going the other way.
The score-line was harsh on the Ramblers, who had kept one of the favourites for the league title at bay for much of the game and had some chances to score themselves.
Due to less fortuitous results around them, Sandbach stay in 7th place with Cheadle Town 5 points ahead of them, whilst New Mills move joint-top of the NWCFL South with West Didsbury and Chorlton.
Sandbach: Danny Hamlett, Roby Roberts, Callum Chapman, Lewis Barker, Stanley Tatters, Niall Cope, Billy Buckley, Jack Hart, Brian Barton, Robbie Hatton(C), Liam Fitzpatrick.
Subs: Matthew Pearson, Justeace Holness, Ollie Pope, Christopher Rowntree, Joel Dovey.
New Mills: Dylan Forth, Samuel Kilner, Mason Fallon(C), Darren McKnight, Harry Norris, Christopher Rogers, Kyle Oakes, Jack Wray, Joe Bevan, Benito Lowe, Richard Tindall.
Subs: Emmanuel Omorogbe, Teddy Osipitan, Akim Samms, Elliot Cooke, Jake Pollard.