International Women's Day: Radius' Keystone Insurance celebrates female leadership team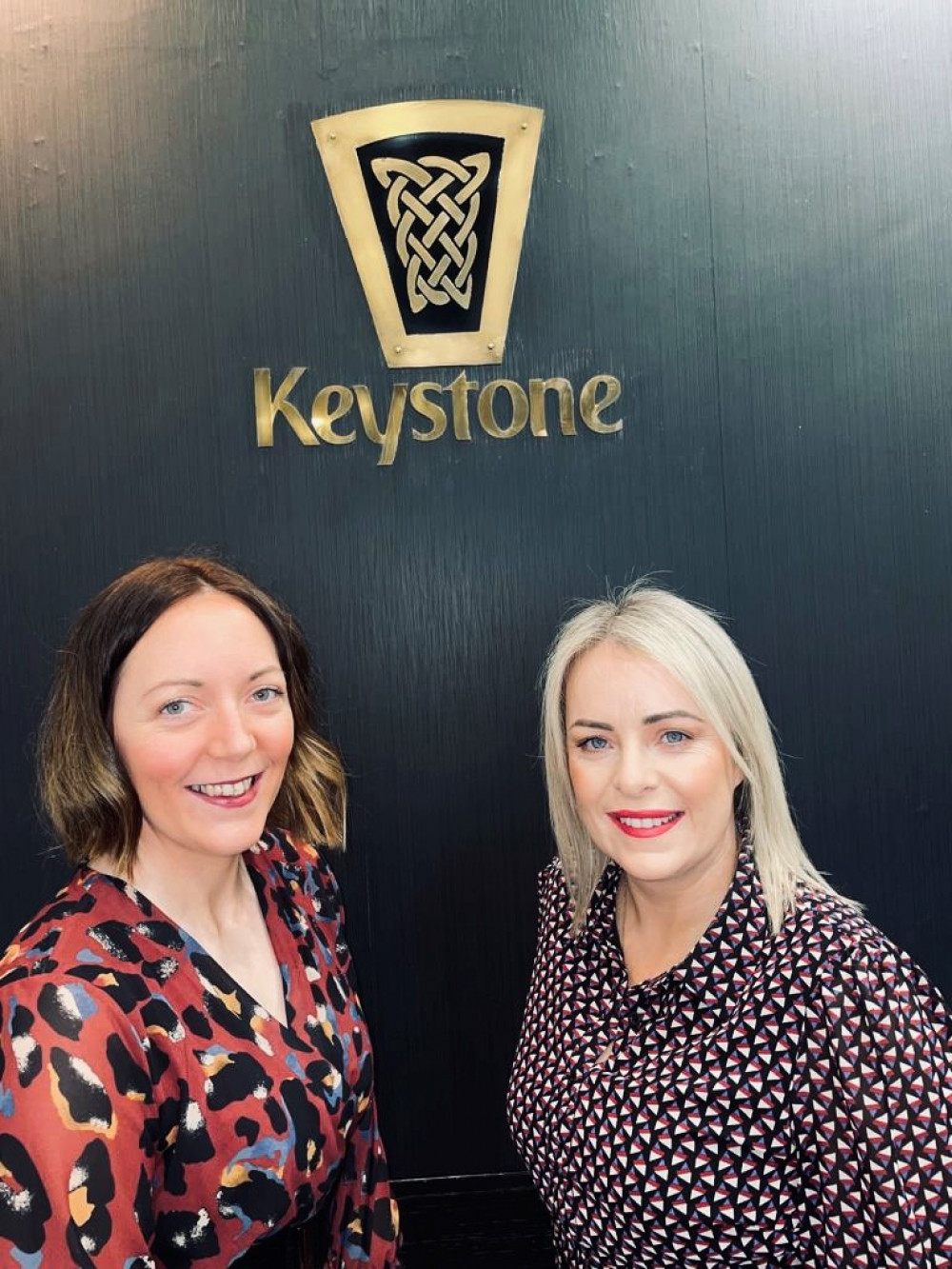 Claire and Niamh at the Radius Insurance formerly Keystone offices (Image - Radius)
Radius Insurance, formerly Keystone Insurance, has continued its nurturing and supportive environment for women as they demonstrate with their joint managers, Claire McAroe and Niamh Hoey.
And as we mark International Womens Day (8 March), the two managers share their experiences climbing the ranks of a male-dominated industry and how they are trying to accelerate gender parity.
Can you describe your career trajectories?
[Niamh]: I started out in the Personal Lines Department of another insurance company when I was 18. After several years, I got promoted to the Renewals Department as a team leader and further extended this role as team leader of Renewals and Operations. I then left that role to come and work here at Keystone, initially covering maternity leave. After two years, I was promoted to assistant manager. Then, after the general manager left, Claire and I were made joint managers. I've now been in insurance for 22 years.
[Claire]: I am the opposite of Niamh. I went to college, did an undergraduate degree in psychology and then a PhD in biological sciences. I realised soon after that, university life wasn't for me.
So, I started looking at entry-level admin roles, joining Keystone seven years ago. I progressed very quickly - I was the first person who wasn't a salesperson to start doing the exams. Once I completed my exams, I got promoted to team leader, overseeing a sales team. I think my strengths very much lie in processes and systems, so I got promoted again to Business Process Manager.
And then after that, I was promoted alongside Niamh to the positions that we both hold now.
Not to use a buzzword, but career progression only works when you have supporters - men who will quite happily hear you out at a board meeting and encourage you to speak up.
The growth of Keystone has been centred around friendly competition - that drives within yourself rather than above other people.
How would you describe your leadership styles?
[Claire]: Again, a cliche, but you're only as strong as your weakest link. If a person grows, then the company grows. We like to keep our people. We don't think anybody is either too big for us or that we're too big for them.
I think the benefit of the two of us as leaders is that we are a team first and foremost. If there is something difficult that we need to talk to any of our team about, we have each other to roleplay the situation.
[Niamh]: We have an excellent understanding of each other. That's why the union of the two of us works and has worked for several years. We've never had an argument; we might have had disagreements, but we've never left the office on an argument.
[Claire]: We're able to be honest with each other. We put everything out on the table with the team as well. There are no hidden agendas. There's no trying to catch people out.
What advice would you give young women starting out in their careers?
[Niamh]: Work hard. I worked hard in every department I went into, which led to my progression. That's what was recognised.
[Claire]: Never stop learning. Unfortunately, it's still the case that women can get overlooked for certain positions so continuous development is really important - even if it is how to learn to use Excel. So, make sure to invest in yourself.
Also, make sure you do something outside of work and your family. I am also a Scout leader, which has helped me progress and keep my sanity in check. You're something other than your job and your family life.
Who has inspired your leadership styles?
[Niamh]: My mum. When I had my first daughter, 14 years ago, she said to me 'keep your independence. Always keep your job'. She always instilled in me that you don't have to give up your job just because you've had a baby. It is also largely because of her that I have been able to work because she was there to mind my three daughters when I went back.
[Claire]: Same for me - my mother. She is a very hard-working woman. She did a Master's in psychology while working full time and bringing up my brother and me. I was a newborn when she was doing her dissertation. She even went into early retirement, got bored and started working in a nursing home. So that figure of a hard-working woman is one I've been exposed to from an early age.
What are you most proud of in your careers?
[Niamh]: For me, it's seeing young people progress and facilitating that progression. We love taking people in and pushing them on.
[Claire]: It's creating job opportunities for other people. It's not just thinking 'we grew the company, aren't we great'; more importantly, it's about how we were able to develop other people, be they male, female, young, or old.
Read more; One Cheshire lawyer is helping readdress the balance of the law profession
Follow Cheshire Business Nub on Facebook, Twitter, and LinkedIn